The participants of Falling Walls Lab Aarhus at Aarhus University in 2016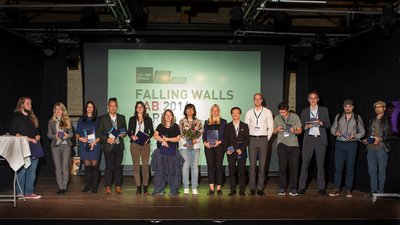 The winner of Falling Walls Lab Aarhus 2016 - Morten Bormann Nielsen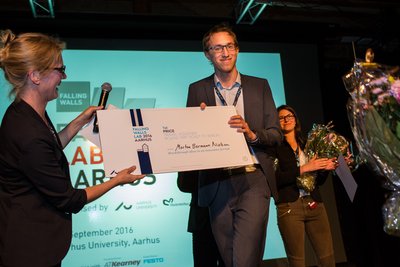 Photos from Falling Walls Lab Aarhus 2016
Apply to be part of Falling Walls Lab Aarhus
We invite all PhDs and PhD students in Denmark from all disciplines to present their innovative idea on Wednesday 28 September 2016 and to compete for a chance to win a scholarship and participate in the finale at Falling Walls Lab Berlin 8 November 2016.

Deadline for application is 14 September 2016
Share you innovative idea
Falling Walls Lab Aarhus at Aarhus University invites all PhDs and PhD students in Denmark to present their innovative research idea in just 3 minutes with just 3 slides.

The best presentation qualifies the winner to participate in the prestigious Falling Walls Lab Finale and to attend the Falling Walls Conference 8 and 9 November 2016 in Berlin.

The Falling Walls Lab is all about presenting innovative ideas and breakthrough research ideas that can inspire people to break down the walls our society faces today.

Participation in Falling Walls Lab Aarhus presents PhDs and PhD students with a unique opportunity to communicate cutting-edge research to a broad audience and a distinguished jury in an innovative format.
Criteria for participating
PhDs and PhD students are welcome to participate.
If an applicant has a PhD, the degree should not date back more than 5 years.
Postdocs and PhD students currently enrolled in university are also eligible to apply.
Win a scholarship and a trip to Berlin
Participate in Falling Walls Lab Aarhus on Wednesday 28 september where a distinguished jury selects the winner who wins a scholarship consisting of
a trip to Berlin on 8-9 November 2016
direct qualification for the Lab Finale in Berlin on 8 November 2016 as one of 100 international and interdisciplinary participants (travel costs and accom­modation are covered)
a ticket for the international Falling Walls Conference on 9 November 2016 where some of the world's most prominent scientists from around the world present their current breakthrough research in 15 minutes each.
For PhD students at Aarhus University only
As a PhD student enrolled at Aarhus University you also get the chance to qualify for the '3 Minutes Thesis' (3MT®) competition in Edinburgh by participating in Falling Walls Lab Aarhus at Aarhus University.
The nomination for this competition will be made in the fall of 2016 and based on the videos recorded of the presentations at Falling Walls Lab Aarhus.
Who can apply?
We are looking for outstanding, young, talented PhD students up to 35 years.
The Participants (in order of appearance)
Budhaditya Chattopadhyay, Roskilde University
Bernardo David, Aarhus University
Jesper Søren Dramsch, The Danish Hydrocarbon Research and Technology Centre (DHRTC)
Deby Fapyane, Aarhus University
Antonija Grubisic-Cabo, Aarhus University
Morteza Chalabi Hajkarim, University of Southern Denmark
Anne Lundgaard Hansen, University of Copenhagen
Nanna Inie, Aarhus University
Morten Bormann Nielsen, Aarhus University
Søren Kærgaard Slipsager, Aarhus University
Astrid Elkjær Sørensen, Aarhus University
Steven Harris Wibowo, Aarhus University
Britt Wray, University of Copenhagen
Wangwang XING, Aarhus University
Be our guest
Be part of the Danish Falling Walls Lab Aarhus event at Aarhus University on Wednesday, 28 September 2016.
Experience PhDs and PhD students present their breakthrough idea in just three minutes using just three slides.
They will compete for the honour of representing Denmark in the Falling Walls Lab finale in Berlin on 8 November 2016.
They can also win an audience award - your vote counts.
Time and place
The event will take place at Studentercaféen, Studenterhus Aarhus, Nordre Ringgade 3 at Aarhus University on Wednesday 28 September 2016 from 4pm to 7pm. The doors open at 15.30.
REGISTRATION IS NOW CLOSED!
Contact
Communications Officer
Special Consultant
Experience the Falling Walls Lab Aarhus in 2015
The participants of Falling Walls Lab Aarhus at Aarhus University in 2015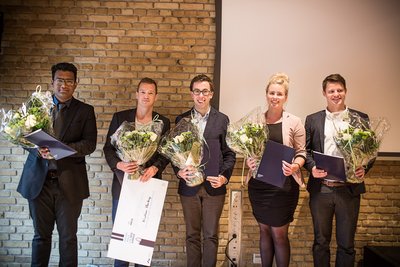 The Winner in 2015: Kristian Martiny